---
Essential Questions
These are questions which touch our hearts and souls. They are central to our lives. They help to define what it means to be human.
Most important thought during our lives will center on such essential questions.
What does it mean to be a good friend?
What kind of friend shall I be?
Who will I include in my circle of friends?
How shall I treat my friends?
How do I cope with the loss of a friend?
What can I learn about friends and friendships from the novels we read in school?
How can I be a better friend?
If we were to draw a cluster diagram of the Questioning Toolkit, Essential Questions would be at the center of all the other types of questions.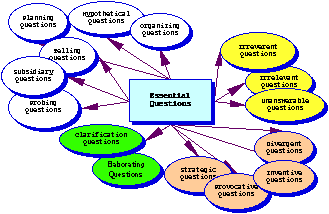 All the other questions and questioning skills serve the purpose of "casting light upon" or illuminating Essential Questions.
Most Essential Questions are interdisciplinary in nature. They cut across the lines created by schools and scholars to mark the terrain of departments and disciplines.
Essential Questions probe the deepest issues confronting us . . . complex and baffling matters which elude simple answers: Life - Death - Marriage - Identity - Purpose - Betrayal - Honor - Integrity - Courage - Temptation - Faith - Leadership - Addiction - Invention - Inspiration.
The greatest novels, the greatest plays, the greatest songs and the greatest paintings all explore Essential Questions in some manner.
Essential Questions are at the heart of the search for Truth.
Many of us believe that schools should devote more time to Essential Questions and less time to Trivial Pursuit.
One major reform effort, the Coalition of Essential Schools, has made Essential Questions a keystone of its learning strategy. (Visit the Coalition Web site).
Essential Questions offer the organizing focus for a unit. If the U.S. History class will spend a month on a topic such as the Civil War, students explore the events and the experience with a mind toward casting light upon one of the following questions, or they develop Essential Questions of their own . . .
Why do we have to fight wars?
Do we have to fight wars?
How could political issues or ideas ever become more important than family loyalties?
Some say our country remains wounded by the slavery experience and the Civil War. In what ways might this claim be true and in what ways untrue? What evidence can you supply to substantiate your case?
Military officers often complain that the effective conduct of modern war is impeded by political interference and popular pressures on the home front. To what extent did this also prove true during the Civil War?
How can countries avoid the kind of bloodshed and devastation we experienced during our Civil War?
How much diversity can any nation tolerate?
Who showed greater bravery and courage, the front line soldiers and the nurses who tended to the wounded and dying or the leaders of the war effort?
Should there be a law against war profiteering?
For more on Essential Questions read this other selection.
---