There must be dozens of types of slam dunk lessons.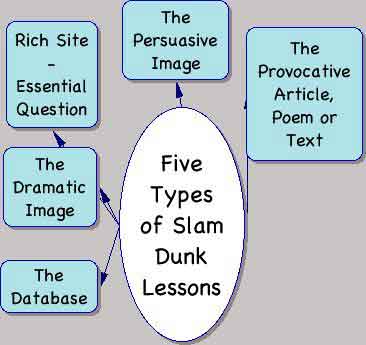 The main thing to remember about slam dunk lessons is their simplicity, their user-friendliness and their high level of thinking challenge. No Trivial Pursuit. They must engage students in standards-based learning that involves analysis, synthesis and evaluation in some combination.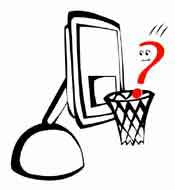 © 2004, Jamie McKenzie
To read about these types in detail, check out the FNO article, "Five Types of Slam Dunk Digital Lessons" at http://fno.org/sum04/fivekinds.html.
Below you will find examples without explanation:
1. Rich Site - Essential Question
The artwork for The Slam Dunk logo was done
by Nico Toutenhoofd and Sarah McKenzie
of Insight Designs - http://insightdesigns.com
It may not be used or duplicated without the explicit permission
of Jamie McKenzie, inventor of the model
http://sept02/slamdunk.html
as the image is copyrighted by him.
The materials on the pages of Questioning.Org and the HTML code behind them
are © Jamie McKenzie, all rights reserved.
Some of the icons are courtesy of Jay Boersma's site at http://www.ECNet.Net/users/gas52r0/Jay/home2.html.